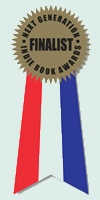 Three Hundred Zeroes
was a Finalist in the 2010 Next Generation Indie Book Contest! Click here to see all the results of the contest.





---
To order a signed copy of the book using a check or money order, send $23 ($29 CDN), which includes postage to:
Dennis R. Blanchard
PO BOX 18364
Sarasota, FL 34276
(include return address and any specific message desired in the signed copy)
Shipping costs are for U.S/CDN. orders only. Contact dennis@threehundredzeroes.com for foreign orders.